Here's an industry guide on how to structure your social media and content strategy for the real estate industry. In my experience, employing these tactics will help you to get the best outcomes, such as qualified sales leads and call-back requests.
1. Plenty of visual and video content
This principle is really a no-brainer. It applies equally to all industries. Visual and (even better) video content are the clear winners for engaging with prospective buyers.
Research shows that 74% of social media marketers use visual assets in their social media marketing, ahead of blogs (68%). And Tech giant Cisco projects that global internet traffic from videos will make up 80% of all internet traffic by 2019.
The importance of great quality renders of the interiors and exteriors of the homes/buildings can't be emphasised enough. This is the bedrock of any real estate social strategy. From these renders you can build stories about the new development that are future-focused and aspirational.
In terms of generating this high quality visual and video content – many real estate developers enlist the help of a creative design agency. Although your social media manager should able to generate this content themselves using affordable or free tools like Canva and HitFilm Express.
2. Updates on construction through timelapse footage
Social media updates on construction will help to allay the concerns of prospective buyers. This is particularly important for buyers who have already made a deposit. These people need reassurance that the build is all going to plan and that they can move into their amazing new home on schedule.
Social media is a way to showcase construction progress through the use of timelapse footage of buildings going up. Not only does it have a practical purpose of addressing buyers concerns, but it's also a remarkably engaging piece of visual storytelling which can be used in a multitude of ways. A timelapse could be pitched as a part of a media kit to real estate media, used in the property or development ad, or used on social media.
Timelapses demonstrate the competency and care taken by the developers and all those involved in the construction process too. Failing the ability to obtain timelapse footage, the next best thing is still images.
3. Don't forget the middle of the sales funnel
Although a lot of time and effort goes into attracting prospective buyers, not as much effort goes into maintaining the communication once the customer is over the line and has put down a deposit.
This is a mistake, because there is a huge opportunity that is missed. The interim period between putting down a deposit and the settlement date is a great time to nurture and grow the relationship between the developer and the buyer.
This is "middle of the funnel" time. It's an opportunity to inform and entertain people about their new neighbourhood. You could provide future-focused content about the community in five or ten years time. This allows prospective buyers to get the complete picture of the economic, social and cultural landscape they will be experiencing once they move in.
You could use a private Facebook group or a segmented eDM for specific buyer profiles such as owner-occupiers or investors, or local versus foreign buyers. Then you can provide content relevant to this audience in a language they will respond to. This builds thought leadership for the brand, and generates a sense of anticipation from buyers about what's to come. Also this tactic makes the audience feel valued and listened to. As they should, after all they've just committed to making possibly the biggest purchase of their life from your brand!
4. Quizzes and Surveys
Traditionally, quizzes and surveys on social media are treated with disdain across the board. They are considered to be fluffy, silly and pointless.
But the truth is that quizzes and surveys can yield some of the most valuable insights into the audience. This is the "top of the funnel", awareness and consideration phase.
It's important to note though that you mustn't make the quiz overtly promotional. This is an exercise in giving people a fun exercise to do, while also providing them with information about your product along with other general information. It's infotainment, but if it's too promotional you won't get any quiz completions – don't treat people like they're stupid! Assume they know as much as you do about marketing.
An example of a good quiz:
For a new development showcasing luxurious apartments with over 50 apartment plans on offer, a social quiz could be about 'What kind of apartment décor suits your personality?'.
The quiz can match personality traits and behaviours to different kinds of interior design trends along with beautiful images. You could also talk about the different design options in your brand's new development.
There's no scientific veracity to this kind of quiz; it's purely for fun. But, as a result of the quiz answers you can find out the most popular design preferences for your audience, their motivations and desires, and their age, gender and other demographic information.
At the end of the quiz you can include a lead form which when completed allows them to get a call back from your sales team about the properties (subtly) mentioned in the quiz.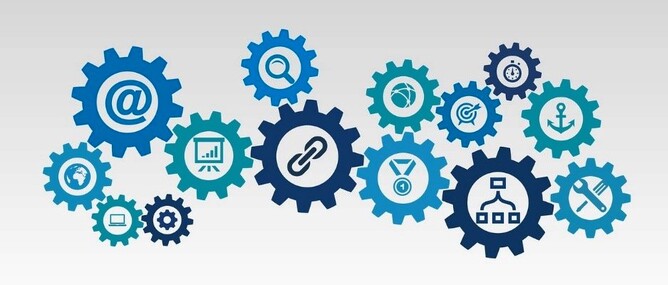 5. Embrace marketing automation
It's possible through the almighty power of marketing automation to sync and organise all of your sales leads, email subscribers and social media followers into one CRM. This means that you can see a clear pathway through the sales funnel for each customer.
This has the advantage of offering the ultimate in transparency across teams. Or, if you would like to keep it simple, you could set up automated zaps using Zapier. This will ping or trigger a certain action, once a certain marketing action is taken. This is relatively easy to set up and requires no coding experience. It can automate an enormous range of actions from Google's products, many CRMs and payroll programs, social media, scheduling apps, you name it.
Using bots to complete your marketing activities for you is highly effective. You can implement a bot as a chat pop-up on your landing page which will speak to visitors and segment them, without you having to lift a finger!
Bots nowadays can be made to sound human and natural and can be used on Facebook messenger and in your website chat for great results. It has gotten to the point now where it's difficult for people to distinguish between a bot and a real person.
6. Sync your media and social strategies
Sales leads through Facebook will peak when positive news coverage appears in the national news media.
Make sure that your media strategy harnesses plenty of milestones and opportunities to get the message out there. The mainstream media still hold some clout in terms of building the reputation of your real estate brand. All positive news coverage should be shared on social media and reflected upon through the brand's lens, in order to increase sales and engagement.
I hope you have found this guide to social media marketing helpful for your real estate business. If you would like a fresh perspective on your marketing, get a FREE CONTENT AUDIT today, give me a call on +61 3 9028 7745 or message me below
---
Get a free content audit for your real estate business! register below…