Getting consistently on-brand content for clients can be a challenge for a number of reasons. This definitive guide for content managers takes the pain out of planning, coordinating and managing content writers so that there's a high quality and consistent result for the clients.
1. Get the right client brief
The client should be clear about their content requirements with you, so that you can then translate this for your freelance content writers. If the client is unclear themselves about what they need then put your strategy hat on and provide insights and recommendations for them about content types, relevant channels, content strategy, timelines and what sort of content and platforms will get the best results.
2. Work out the strategy
If you and the client are going down the blogging route, then develop a third party blogging strategy that encompasses the needs of the client and a series of credible, interesting and enjoyable blogging topics. These blog posts will need to read as authentic, interesting and from an SEO point of view, a good way to provide backlinks to your client's website.
3. Ideation of topics around thought leadership
The content strategy should emphasise that the client is an authority in a particular area. Be it teaching languages or selling lawnmowers. So the posts created by the content writers should demonstrate this expertise by offering helpful, practical advice that can be a real resource to readers.
4. Communicate with your content writers
Once you have liaised with the client extensively and worked out a content strategy, then at this point its a good time to involve your content writers in the content creation process. You can ask them to consider your topic idea and investigate into the topic extensively. Ask your writers to write while considering whether or not they would actually enjoy reading the article themselves. Would they find the article useful or enjoyable to read. If not, then there is still work to be done on the post before it goes live.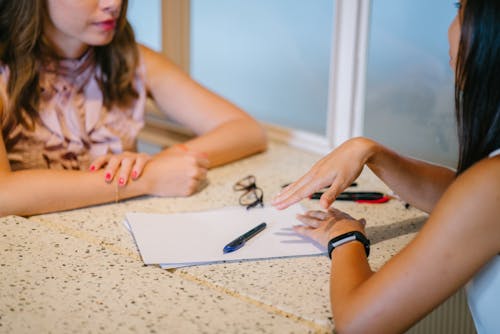 5. Headlines are vital
Get your writers to consider the strength of the title. Headlines/titles are a key part of blogging. People don't spend ages reading everything online; they read what stands out and catches their attention. The headline is a writer's chance to grab the attention of the audience and the post itself is the chance to maintain attention in a sustained way. Content writers can do this in a number of ways, including:
Surprising the audience.
Creating a sense of mystery
Making the audience empathise with something
Talking about a trigger (such as a celebrity, news story or seasonal event) they may be interested in.
Headline formats:
Top 10 tips
How to…
6 of the best…
8 ways to…
7 reasons why…
Dos and don'ts
The secret of…
The lazy way to…
10 things we can learn from…
Early warning signs of…
The big question (one people can empathise with!)
Do you make these common mistakes?
6. Blog post essentials
In order to make sure your content writers are making web-friendly content, instruct them on including the following blog post essentials into their posts. These make posts more scannable and useful.
Great sub-heading
Bullet-point lists
Specific recommendations:

Places, events, etc
Physical addresses and contact phone numbers.
Website URLs and information
Maps

Images
Embed codes for Google Maps
Embed codes for YouTube clips
7. Branding considerations
There are certain commonsense things no client will want to talk about in articles such as crime, drug abuse, etc. Many of these topics will be obvious and won't require any explanation.
Although ensure that you liaise with your clients for any touchy subjects or off-brand subjects that should not appear in content. Instruct your content writers to bear in mind that they should think about the client's desired projected image and branding when they are writing. Instruct them to cut anything they are unsure about.
Also remember that the focus of an article should never be a service offered by a client's rival. Services offered by the client must never be referred to in a negative way. If they're compared with something, they should be represented as the better choice.
8. Accuracy, grammar and punctuation
Although as the content manager you should be vigilant for various grammar and punctuation issues in the final copy, the overall responsibility to ensure factual accuracy and quality control should also be the purview of the content writers themselves.
However for them to do their job properly, you should provide them with clear guidance on this. For example if they have to read a sentence more than once, they should rephrase it. Ask for concise, plain and punchy language. Use the active voice, not the passive voice. Break up sentences longer than 2 clauses.Paragraphs should only be 2-4 lines long – if they're longer, ask the content writer to break them up. Subheadings and bullet-point lists should be used where possible to make content easier to scan and speed-read.
6. Including Links (external content)
Links in blog posts add legimitacy to the content and provide a high quality addition to posts. Get your content writers to include links naturally in the context of the post. By including them in an author bio they can demonstrate the client's expertise rather than pollute the content. When links are included, ensure the content writers include them naturally in sentences – the grammar should be correct.
7. Formatting
Provide clear instructions on how content writers should format their posts before submission. How pedantic you become about this is up to you! Below are some guidelines I needed to follow to ensure that posts were consistent all of the time. With a huge workflow, this can be very time-saving in the long term.
Posts should be in Word with the following format:
Language should be set to English (UK)
Margins: 2.54cm all way round
Line spacing: 1.15
Font: Calibri, 11pt, black (not headings/subheadings)
Text alignment: justified (not headings/subheadings)
Main heading: centre, Calibri, 26pt, bold.
1st-level subheadings: left, Calibri, 18pt, bold
2nd-level subheadings: left, Calibri, 14pt, bold.
Keywords/links: hyperlinks should be inserted where keywords appear in the text, like this.
Line breaks: Please leave line breaks after headings and images and between paragraphs.
10. Submitting content
In order to avoid the confusion of a multitude of work coming in from different content writers and for different client briefs, you should give your content writers clear instructions on submission as follows:
Reply to the email you were sent that contains the relevant content brief, leaving the original subject line.
Attach the Word document with correct file name along with the relevant 2 images (all together in a zip file would be ideal).
Include any relevant notes within the body of the email.
Is your content working hard and producing good enough results for your business? Find out with a free content audit!